Raw Coconut Oil for your Lips? Pucker Up chapstick..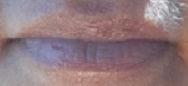 Dry Lips, chapped lips, peeling lip skin..yuk, yuk and ouch..Next time no need to scrounge around for the elusive chapstick you knew was somewhere in the drawer..Just grab your jar of Raw Dua Dua Coconut oil and rub some on your uncomfortably irritated lips.  It has a much smoother feel on your lips, not sticky feeling like chapstick..and best of all its made only from nature! 
At this time I should probably point out the ingredients in chapstick: Arachidyl propionate, camphor, carnauba wax, cetyl alcohol, fragrance, isopropyl lanolate, isopropyl myristate, lanolin, light mineral oil, menthol, methylparaben, octyldodecanol, paraffin, phenyl trimethicone, propylparaben, red 6 lake, saccharin, white wax...
Ugh! that should be reason enought to give raw coconut oil a try on your lips..Give it a try..and let us know what you think..
Leave a comment
Comments will be approved before showing up.